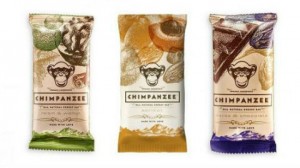 At Cyclo we're big on natural energy bars; we often find them easiest to stomach, especially during longer events and training rides, and avoiding 'artificial' nutrition is always high on our list of priorities. Having recently been introduced to new Czech brand Chimpanzee Energy Bars – with their distinctive and fun branding and which the manufacturers claim 'gradually releases energy to get the best out of your sport or workout' – we were eager to take a look (and taste…)
Available in three flavours – Raisin & Walnut, Date & Chocolate and Apricot, with a new Beetroot & Carrot flavor coming soon, the makers say that their Chimpanzee Energy Bars are made of the 'highest quality organic ingredients' and are completely natural, with no preservatives, artificial colours or flavourings. Taking the Apricot as a fairly representative example, each 55g bar delivers 215kcal, with 26g carbohydrates (of which half is derived from sugars), 8.2g protein and 5.2 of natural fibre, approximately 21% of your RDA. The carb/protein balance is clearly close to what is often considered the optimum 3:1 ratio, making them ideal for either pre-ride fueling or on-bike nutrition where two bars-per-hour should support a moderately tough workout.
Cyclo found the bars fitted neatly into the back pocket of our cycling jersey (in fact we managed to get three in one pocket) and were effortless to open; always a plus when we consider the wrestling matches we've undertaken with some bars. All three flavours were easy to chew and digest, were extremely tasty and certainly felt like they were delivering on the energy front too. We've found in the past that some energy bars can be hard to chew and swallow, and need to be washed down with a drink, not so with the Chimps – another definite plus-point.
Of the three bars our personal favourite was the Raisin & Walnut, the mix of organic walnuts, organic raisins and cinnamon proving a very pleasant combination. To give an insight as to what ingredients go into a Chimpanzee bar, this, by way of example, makes up the Raisin & Walnut variety: organic rice syrup 15%, roasted soybeans 13%, soy flour 12%, organic soy fat 10%, organic raisins 10%, organic walnuts 10%, organic whole oats 9%, barley malt 8%, rice crisps 5% (rice flour, glucose syrup, barley malt extract), organic evaporated cane juice 5% (FairTrade), organic cinnamon (FairTrade) and salt.
For the purposes of a second opinion Cyclo spoke to Luke Tyburski, an endurance athlete, adventurer, and journalist sponsored by Chimpanzee. 'Being an Endurance Athlete, with nutrition playing a huge part in my training and racing,' says Tyburski, 'Chimpanzee works extremely well due to their bars containing majorly organic ingredients, and no preservatives, or articial flavours or colourings. An all natural, great tasting, easily digestible energy bar that causes no stomach upset, and a constant stream of energy, there is nothing else I want from my nutrition during training and racing… I recently returned from a month-long training camp in Nepal in preparation for the Everest 65km Ultra Marathon, I used Chimpanzee bars throughout all my training, at altitude, throughout the mountainous trails and racing. I found them not only tasty, but easy on my stomach…'
Chimpanzee's compare well to the similarly styled, long-established Clif Bar (see the Cyclo review here); serving up more-or-less identical levels of carbs and protein, although with Chimpanzee Energy Bars retailing at £1.99 per 55g bar and boxes of 12 x 55g bars at £19.10, Clif (often available for as little as £1) certainly come out best on cost alone. A place, then, for Chimpanzee Energy Bars on our future rides? Absolutely. It's always good to mix things up and keep variety levels high and with their natural credentials and excellent taste a space for Chimpanzee Energy Bars in our jersey pocket is guaranteed.
For more information on Chimpanzee Energy Bars, and details of both online and offline retailers see chimpanzeebar.co.uk