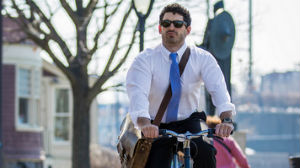 Oh, those eternal bike commuter quandaries: smart, casual or sweaty? A quick change and a blast of deodorant in the lift? How to rock that crumpled look, once you've unfurled the shirt from the backpack? A possible solution comes in the form of Fairwear apparel from Philadelphia-based emerging designer Louis Pollack who makes performance dress shirts with moisture wicking fabrics.
Commenting on his inspiration, Pollack says: 'Technically part of downtown Center City, Fairmount is its own self-functioning neighborhood centered around one of the oldest and largest urban parks in America. With Philadelphia's skyline firmly planted in the background, Fairmount serves as the gateway for all things outdoors. I wanted to capture Fairmount Park's uniquely balanced environment, and share it with enthusiasts everywhere.'
At first glance – actually even with closer inspection – it's hard to tell that the items in the collection are anything but 'ordinary', but made from COOLMAX tech fabric with a 60% cotton mix they go a long way towards providing  fantastic commuter-friendly shirts. Even with a backpack on the shirt we had on test, the Spruce Stripe since you ask, remained cool and fresh even on what passed for a scorching day in the UK.
Actually describing the shirts as 'ordinary' looking in any way does a disservice to Fairwear and to Pollack. There are some great looking shirts in the COOLMAX range from the dapper Chestnut Chambray to the more traditionally classic Rittenhouse dress shirt or the short-sleeved Girard. Making apparel that works hard on the bike and looks great off of it is no mean feat, but Fairwear look to have managed it with some style. The design, cut and fit are all of the highest quality and with the Fairwear shirts retailing at $85 (around £50) they're exceptionally well priced.
Regrettably there are no UK retailers as yet, but you can contact them direct via the website fairwear.co for order enquiries.