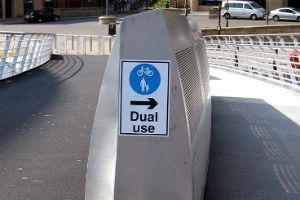 The Department for Transport has announced 78 cycle safety schemes which will benefit from £40million of national and local government investment, a move welcomed by British Cycling who worked with the DoT in selecting the proposals to improve the design and layout of roads in towns and cities across in England. The schemes are a mix of improvements including the reallocation of road space, 'significant simplification' of road layouts, changes to priority and junction layouts, designs that lower speed and changes to crossings.
Making the announcement Transport Minister Norman Baker commented, 'This is part of the £107 million investment we have announced in cycling infrastructure over the last year, over and above the £600 million we have invested through the Local Sustainable Transport Fund…'
Martin Gibbs, British Cycling Director of Policy, added:  'The investment will pay real dividends because more people on bikes means a healthier population requiring less help from the NHS… Reducing congestion will make our towns and cities better places to live and if we want to continue to produce Tour de France winners and Olympic and Paralympic champions, we need as many people cycling as possible, especially young people.'
The schemes, which are funded via a £20m government grant and £20m of local authority match-funding, cover every part of the UK apart from London which is overseen by Transport for London. The regional breakdown is: East of England – £5.31m, East Midlands – £3.17m, the North East – £3.29m, the South West – £3.09m, the North West – £14.77m, the South East – £5.57m, West Midlands – £1.51m, and Yorkshire and Humber – £2.62m.