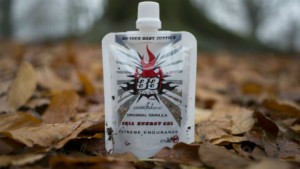 Once in a while a product comes along that really does things differently and 33Shake Chia Energy Gels certainly tick that box.
From the same company that produce the excellent All in One Shakes, see our review of those here, the Chia Energy Gels look to be a whole new way of fuelling your ride. For a start they are a dry mix, weighing in at just 21g of ingredients (under 30g all-in with the packaging) to which you add your own liquid. There are several clear advantages to this: firstly the slight weight-saving on a long ride if you opt to fill them with water from the bottom (marginal gain!) but more significantly it makes them versatile. Want more carbs? Add fruit juice. An electrolyte hit? Top up with coconut water. A caffeine boost? Stick in a shot of espresso…
To prepare for use you undo the resealable spout, blow to slightly inflate the pack, and then fill with your chosen liquid. Give it ten minutes and the gel is good to go and if you want to prep them in advance they can be kept for up to 24hours once opened and hydrated. Of course it's a slightly tricky job to hydrate the 33Shake Chia Energy Gels from a bidon, but it's more than manageable and no more inconvenient that getting covered in sticky 'traditional' gels when trying to open them (also there's nothing sticky about these…)
So, what's in the 33Shake Chia Energy Gels? Well there's coconut palm sugar, Himalayan pink salt and organic Madagascan vanilla – which give them just the subtlest of flavour – but at their heart, in case the name hadn't already given it away, are chia seeds that deliver an exceptionally smooth (no jags and crashes) source of energy, here helping serve up 90kcal, 11.2g of carbs (6g of which sugars), 4g of fat (0.4g saturates) and 5g of fibre. It's a heady mix, perfectly judged for the bike.
The texture – not a strong point with any energy gel – is slightly gelatinous but easily swallowed and because you are the master of your own destiny when it comes to hydrating them they can be made thicker or thinner to taste. Okay, so you'll spend a couple of miles picking chia seeds out of your teeth with your tongue, but it gives you something to do between gels. Perhaps 33Shake should use it as a selling point?
In addition to helping power the ride the gels also include 1.1mg iron and 17.6mg and 103mg of sodium and potassium respectively – helping to replace salts lost through sweating and adding to your hydration strategy – plus 1.1mg of calcium. Because the Chia Energy Gels are fresh, handmade and natural with no preservatives (basically 'real' food) their shelf life is shorter than more conventional gels, generally 10-12 weeks, but each gel is marked appropriately.
There's no doubting that 33Shake do things differently, but not just for the sake of it. We've been hugely impressed by the 'clean' and sustained energy from these gels.
33Shake Chia Energy Gels retail at £1.99 each, dropping to £1.89 per gel when you buy them as an Event Pack (10 gels), or just £1.79 per gel when you buy an Endurance Pack of 30 gels.
Further details and online purchase of 33Shake Chia Energy Gels at 33shake.com and you can get social with them on Facebook and Twitter too.
Four-time World Ironman Champion Chrissie Wellington champions 33Shake and you can read on our sister-site TriGear what she has to say about training and racing here and nutritional and mental preparation here.