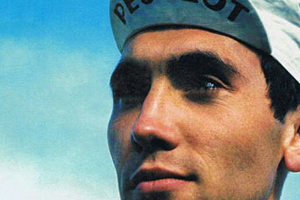 Published in hardback in March this year, and due in paperback soon, Merckx: Half Man, Half Bike by William Fotheringham looks deep into the psyche of the cyclist who, for many, is the best there has ever been.
One of the key factors that support the publisher's guff about Merckx being 'to cycling what Ali is to boxing'…is the numbers. Quoted as a total of 445 victories in the publicity material but as 'over 500' and 525 by sources as diverse as the Guardian and Wikipedia. We'd suggest that if you are pinning your story on statistics at least get them right…
What isn't in dispute is that Merckx won more races than any cyclist in history; five Tour de France, five Giros d'Italia, one Vualta a Espana and three world championships. Possibly the greatest achievement was to win, uniquely, the yellow (Overall Winner), green (Best Sprinter) and polka-dot (King of the Mountains] jerseys in a single Tour (1969).
Fotheringham, one of the most entertaining of cycling writers, provides interesting historical and political background to the two sides of Belgium and the rich traditions of Flanders cycling. His biographies of Tom Simpson (Put me back on my Bike) and Fausto Coppi (Fallen Angel) may be much more thrilling but, in part, that's because both characters were flawed and met with personal tragedy. Because Merckx was relentlessly successful and focused the catalogue of rides and wins impresses rather than fascinates.
However, what Fotheringham does provide, as always, is a compelling opening chapter that takes you to the heart of the book – Merckx, near the end of his career, fighting for a futile third place finish on a brutal Alpine pass, with a jaw that was broken in two places just that morning. He also presents a rider who always attacked, the first rider to dominate the classics and the tour, day after day. Interviewed by Fotheringham in 1997 Merckx answered the key questions posed in the book: 'Why the years of focus? Why the need to win so often and so much?' Merckx replied with a simple soundbite: 'Passion, only passion.'
Fotheringham suggests it all starts with a sensitive Flemish youngster, an outsider who spoke French, and one who was, in a community where cycle racing was key to the culture, 'too small to win'. It was this fear of failure that led him at times to pursue the needless annihilation of his rivals.
If the background and the cycling action are well researched and detailed one aspect has been widely critised: to some, Fotheringham 'takes a bucket of whitewash to Merckx's use of performance enhancing drugs'. Merckx was said to be distraught early in his career when he realised that professional cycling was 'rotten to the core' yet still went on to be caught doping three times. Whatever your views on that issue this book is yet another quality title from Fotheringham; a fascinating story of, by any measure, the greatest competitive cyclist of them all.
Merckx: Half Man, Half Bike by William Fotheringham is published by Yellow Jersey – ISBN-10: 0224074482 – available from, amongst others, Amazon.co.uk