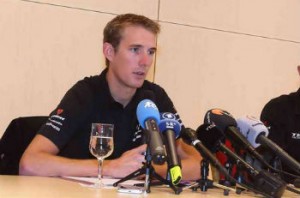 After almost a decade in the sport Trek Factory Racing's Andy Schleck has announced his retirement at the age of 29. He cited slow recovery from a knee injury sustained during a crash on the third stage of this year's Tour de France (Cambridge to London) as the deciding factor.
Schleck announced: 'I'm obviously disappointed to end my career like this, I would have liked to keep on fighting but my knee just doesn't allow it. Since my crash in the UK there has hardly been any progress. While the ligaments have healed, the damaged cartilage is another story. I have been working hard on rehabbing the knee but came to the hard realization that at the risk of irreversibly injuring it, this is the best course of action.'
During his career Schleck has taken four Grand Tour Podium places, taking second at the 2007 Giro d'Italia, the 2009 and 2011 Tour de France and having his second-place 2010 TdF upped to first after Albert Contador was stripped of the yellow jersey for doping.
His brother Frank Tweeted following the news: 'Thx to @andy_schleck we spent great time together on the bike… you know memories are forever.be proud. love you bro. Cu' – Frank will continue to ride for Trek Factory Racing in 2015 having renewed his contract for a further two years.
More on Trek Factory Racing at trekfactoryracing.com and you can continue to follow Andy Schleck on Twitter @andy_schleck