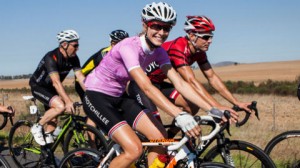 Whether for the personal glory and the pushing of boundaries or for the noble act of charity fundraising, taking on your first major sportive or organised cycling challenge can be a daunting prospect, but with a little preparation and a common sense approach there's nothing to fear in taking the plunge. To help ease the way into stepping up to the challenge Cyclo talked to a range of experts to bring you the help and advice you'll need to succeed…
'Before you get to the start make sure your bike is in good working order – oiled, cleaned, brakes and gears working well. In fact you should make sure you stay on top of your bike maintenance all year round… Also make sure you've tried and tested your nutrition, whether it's gels or bars. Make sure you like it and that it agrees with you. The same goes for liquids – it's really important to keep ahead of dehydration by taking fluids in regularly. Once you start to get dehydrated it's difficult to catch up again.
'Chat to other riders around you and ride in a group if you can, as this is what cycling all about; it's the fastest way to the finish too (after all there's a reason the pros do it.) Everyone riding is there to have fun and cycling is great for getting to know other people.'
David Bryant, Head Ride Captain – HotChillee
'Familiarise yourself with the event route; full details will almost always be available before the event – have a look, note major way points, note any hazards. Also prepare to be self-sufficient at an event, at the very least this means a puncture kit and pump, but think about some other essentials that you might need, a rain jacket or a spare inner tube perhaps. Even if there is on-course assistance, no one enjoys being soaking wet and cold or a having trip back to event HQ in the broom wagon!
Make sure you're fully fuelled before the event too. Think about how much food and drink you'll need to consume along the way. Sports foods are very portable, such as energy gels or bars, but there's always room in my jersey pockets for a banana or a hot-cross bun.
'Pace the ride and enjoy yourself; don't rush off with the speed merchants or get swept along by them as they pass, don't see people in the distance and chase them down. Work out your own desired pace and stick to it, there's nothing worse than blowing up halfway round a sportive.'
Chris Royston – Newmarket Cycling & Triathlon Club
newmarketcyclingtriathlon.co.uk
'My advice to anyone approaching a sportive for the first time is be realistic in your expectations; always be prepared to drop down to a shorter route if your legs are tiring.
'Amongst the multitude of commercial sportives, there are many challenging charity events that deserve close inspection. The GSD Giant is one such event and it's close to my heart because it supports people living with a very rare group of metabolic disorders concerning every keen cyclist's obsession: glycogen storage. With insufficient glycogen in the liver and muscles, even a healthy and well-trained cyclist will rapidly "hit the wall" or "bonk". So you should always take great care to store this complex sugar, perhaps by eating a good pasta meal the day before and topping it up regularly throughout a long ride.
'To keep your legs alive you'll need to top up your fluids and nutrition at the feed stations but also on the bike. On longer events you need to find what works for you; personally I find that flap-jacks are excellent for giving me a quick boost followed by a sustained flow of energy for 20 to 25miles, and they don't upset my stomach; I also use one or two energy gels well in advance of steep inclines.'
Allan Muir – Gentle South Downs Giant
'Always turn up on time to the start of your event – there's nothing worse than missing out or having to play catch up; it's stress you can really do without. Across the Divide always provide event manuals with everything you need to know about a specific event – with any reading materials you are given, take the time to actually read them.
'If you train appropriately for your event, do some research, ask some questions you should minimise any stress and give yourself a great opportunity to complete a fantastic challenge and perhaps, most importantly, have some fun!'
Steve Cooper, UK Events Manager – Across the Divide
'Pacing is always one of the most common challenges faced by event participants. The key to getting it right is taking a good look at the route profile before the event day. Try to get a grasp of when significant climbs occur on the route and the rough distances between them so you can be prepared; like any endurance sports event it's important not to go too fast too soon!
'Nailing your nutrition and hydration strategy is hugely important. Consider that most sportives, particularly the longer ones, will set off early in the morning, often around 7am, so be sure to take on a good amount of carbohydrates the day before – it's not ideal, or easy to be taking on a big meal at 5am, or earlier. Take a look at the feed station layout, so you know when these are coming up and importantly try and find out what product will be available to ensure you are comfortable with it and, if not, be sure to carry enough of your own supplies to get you round.
'A variety of clothing options is useful too, whilst it can seem sunny and warm at an event start venue, often you are climbing high into the mountains where you may be greeted by very different conditions.
'Finally a good night's rest can make all the difference on event day. If you are travelling to a sportive a long distance away we always recommend staying over in the area the night before so you can get a good sleep and arrive at the venue raring to go.'
Dan Lipman, Senior Marketing Manager – Human Race Ltd
If you're looking for further advice Cyclo have supported Pilgrims Hospices with a 'top tips' feature than can be read here and Across the Divide's Steve Cooper offers further information on tackling a sportive or cycling challenges here.
Image (c) hotchillee.com