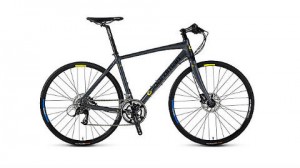 A frequent question posed when buying a new bike is 'what do I get, road or MTB?' – which might well beg the response 'a hybrid'. And that jack-of-all-trades was a simple answer for some time, until the hybrid split into two further camps, the classic/comfort style or performance/sports. With winter is just around the corner (again) our attention turned to the latter with a decision to look at the Boardman Performance Hybrid Team, in part because in each price range the Boardman bikes are generally competitively spec'd out, but also because we are unashamedly fans of Chris Boardman – partially for his racing exploits, but more so for the commitment off-peloton for cycling in general.
We decided to order the Boardman Performance Hybrid in its box having had mixed experience with build quality in the past, and figured if we were going to spend an hour checking everything over before the first ride, we may as well assemble the bike in the first place.
It was a pleasant surprise to unbox the bike and find it nearly assembled; apart from needing to align the bars, fit the saddle, aftermarket SPD's and front wheel, everything else was done, even the gears were indexed, and there was a nice thin layer of lube on the chain. At first look the frame appeared a little chunky, the tubes looked like they belonged on a straight MTB, even the seat stays and forks were chunky, but looks, of course, can be deceptive – weighing in just a little over its claimed weight, but still under 10kg. So far, so good…
Elsewhere the drive train came as a bit of an initial shock; reminiscent of the early 80's when all except from the top of the top end bikes came with a real mixed bag of components. Our first thought was that the team over at Boardman were starting to consider margin gains when it comes to component costs, and this is probably partly true. The Boardman Performance Hybrid comes fitted with FSA Gossamer Compact 50x34T chain set, Microshift front mech, SRAM Apex rear mech, both controlled by SRAM S700 shifters, and a Shimano 105 11t-28t cassette; we had half-expected to see a sun tour BB but luckily this was also a FSA external – however it was all surprisingly well matched and gear changes proved silky smooth.
Its not all perfect however; even for someone with broad shoulders, the bars are a little too wide, this is where the bike starts to feel more mountain bike than performance hybrid. We're slightly perplexed with the cassette choice too; as zippy as this bike is we think the 11t is overly ambitious, and would rather have seen the Shimano 105 12-30T with a mid cage rear mech capable of overcoming just about any hill the UK could throw at it. Also the tire choice also left us disappointed; the Vittoria Zaffiro 700 x 28c is a cheap option – an okay tire, but for the price of the overall package it felt somewhat… lacking.
Finally on the list of lows were the brakes. There is absolutely nothing wrong with the Avid Elixer 1 set (we actually quite like them) but on the test rides it was difficult to stop and felt very spongy. Having the same setup on our MTB we knew how well the Avid brakes can work and figured a quick bleed would sort them out – but were shocked when we pulled 3/4 of a ml of air out of the rear and about 1/2ml out of the front; this is comes down to attention to detail in the factory rather than component quality, and being that many consumers won't have the tools (or perhaps knowledge) to bleed hydraulic brakes it really is something of a crucial oversight.
It's fair to say that most products' websites will normally over sell the performance or quality, so reading 'Sprinting from the lights, braking for the next set, cornering and weaving around the traffic, then it's out into the lanes pushing hard up the climbs and descending fast down the other side…' we anticipated a degree of exaggeration but for once this was not the case. For a bike with a sit up and beg position, sitting on basic quality 28c tires, the Boardman Performance Hybrid really does move. Perhaps it was the thrill of the new ride, perhaps we had a slight tail wind, but comparing average min-per-mile for the year on a road bike, it was a mere one second per mile slower.
Our minor grumbles aside, the Boardman Performance Hybrid Team is still a great package with a good mix of components, topped off with the expected Boardman quality finish. This is a fast and agile bike that actually does what it claims and at (just) under £750 it remains a truly solid option when it comes to hybrids.
For full details on the Boardman Performance Hybrid Team see halfords.com
This review was written by Cyclo contributor Jason Jones – you can follow him on twitter @DRJtJones