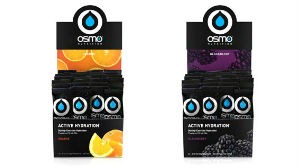 Osmo Active Hydration, available in both orange and blackberry flavour, comes packed in jersey pocket friendly 20g sachets ready to blend in the bottle. Created by endurance athlete, exercise physiologist and nutrition scientist Stacy Sims Osmo Active Hydration is intended for use during exercise to actively increase fluid absorption and replace key electrolytes which would otherwise result in an overall loss of performance on the bike.
So what's in the pack? Unlike most sports hydration and nutrition products Osmo seems a little coy on the subject; obviously the ingredients are listed (sucrose, so basically sugar, being number one), but it throws in 'OsmoAct Beverage Base Blend' to appear a little more arcane – although this then is a blend of sucrose (more sugar or the sugar already listed?), D-glucose (sugar again), sodium citrate, potassium citrate, magnesium citrate and calcium citrate. Osmo Active Hydration also includes a range of vitamins including C, B2 and B12.
Mixed with 500ml of water (and taking a little shaking to mix) Osmo does prove rather sweet – hardly surprising when 17g of the packs 20g weight is sugar – but the flavours are fairly refreshing with no artificial aftertaste. On test they seemed to help hydrate well and went down easily enough – the levels of 'salts' look well balanced for the job in hand and the convenience of the small tubular packaging was appreciated.
Osmo Active Hydration is a perfectly decent product, let down a little by both the branding and information (or lack thereof) on the website. Not sure they are doing themselves any favours by noting that Stacy Sims 'assisted Lance Armstrong in researching thermoregulation in 2010' either…
A further oddity is that both the blackberry and orange flavours are listed on the Osmo website as being specifically 'for men', whilst women get their own mango flavoured variety which are formulated to help 'avoid premenstrual-related performance decline…' Fair enough (and seemingly scientifically valid), but we're sure there's room for the 'regular' formula in most women's kit bags too.
If you'd rather regulate your hydration strategy with zero calories then something like H2ProHydrate or ZipVit's ZV0 Electrolyte Drink will serve you better – but if you want a (very quick release) sugar surge thrown in – or want to avoid 'avoid premenstrual-related performance decline' – then Osmo Active Hydration clearly ticks the right boxes.
24 sachets of either blackberry or orange Osmo Active Hydration retail at £34.80 (as do the women-specific mango flavour) or all three versions are available in cheaper, but perhaps less convenient, tubs of 400g for £15.99. More confusion again here as the 400g tubs are advertised as being 40 servings, yet a serving is listed as being 20g – so isn't that just 10 servings?
Further details and online purchase of Osmo Active Hydration at osmonutrition.co.uk