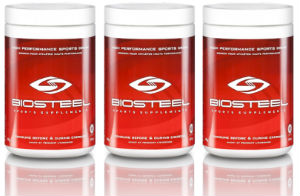 When it comes to sports nutrition it's perhaps not quite all in the name (Cyclo hopes the ingredients might go some way towards defining success) but certainly a name can tell you quite a lot. BioSteel! Now there's a product name that sounds… hard, a name that suggests no-nonsense, straight-to-the-point, tough-as-old-boots results. How then, we wondered, does BioSteel High Performance Sports Drink measure up beyond the label?
The unavoidable cultural cliché obliges us to point out that with a name like BioSteel, this is a product that could only hail from the USA – and so it does, where it enjoys much success across a range of pro sports, not least in hockey and golf. Indeed it was whilst working as a trainer in the former that BioSteel creator Matt Nichol, a veteran strength and conditioning coach, set about creating an energy drink that delivered maximum results whilst working well within the sports strict anti-doping regime.
Hoping to break the UK market, BioSteel is an easy dissolve (non-clumping) mixed berry fruit flavoured powder that, mixed with plus or minus 250ml of water, delivers 1.5g of carbohydrates (non-sugar, so no associated 'crash') along with a mix of 'body salt' electrolytes to maintain balance in hot or sweaty conditions. The blend of amino acids are intended to aid recovery and, it's claimed, boost mental clarity.
As always, hard to substantiate such claims outside of structured testing, but as a pure electrolyte drink it works well, with a crisp, clean flavour that doesn't so much as hint at artificiality (despite hardly wearing 'natural' credentials on its sleeve). Certainly the 'energy' levels are relatively low – compare the whopping 30g carbs something like Nectar Sports Fuel delivers in a similar sixed serving…
So, perhaps it's definitely not all in the name. BioSteel High Performance Sports Drink is a product that sounds incredibly impressive, but (tentative 'mental clarity' claims aside) serves mostly to refresh and rehydrate. Perhaps we missed something, but Cyclo doesn't quite 'get' BioSteel. Whilst we wait for enlightenment, we're happy to reiterate that it tastes good…
Retailing at £69.99 for a tub that, depending on dilution, will give 30-60 servings – BioSteel is available online from biosteelsports.co.uk