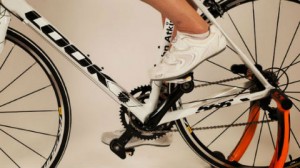 The Tangent Trainer is designed for use with a turbo trainer; it's one of those deceptively simple innovations that always begs the question why hasn't this been thought of before? Bolted between the crank and any clip-in pedal – a painlessly simple operation, well within the grasp of most cyclists – the Tangent Trainer demands a 'tow' pedal action for optimum transference of energy.
It takes some getting used to of course – it's a training tool after all – and initially using the Tangent Trainer is a little like patting your head whilst rubbing your stomach, but with practice (and starting slowly) the technique becomes almost second nature. Although we didn't find it necessary it's fine to start with just one Tangent Trainer attached – on the non-dominant foot – and move things on from there. It's important not to over use it, particularly at first, and the manufacturers suggest two sessions a week of around 20 minutes – that certainly fitted with our testing regime as little-used muscle groups slowly kicked in.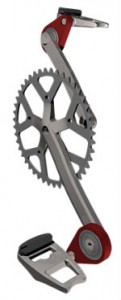 The makers say that trials are still on-going to establish true power gains from working with the Tangent Trainer, but estimate that as much as 20% could be achievable. Even sitting on the side of overly pessimistic a 10% gain would be impressive and worth the investment in the Tangent Trainer.
It may not seem that important, but we also thought the Tangent Trainer was really rather pleasing aesthetically; too often we see gadgets of one kind or another hitting the market still looking like prototypes. The Tangent is both beautifully engineered and has clearly had much attention paid to detail.
The Tangent Trainer, although not cheap at £99.99, should pay dividends for those serious about upping their game and improving their technique for either road or track. Full details, including fitting instruction video, and online purchase at tangenttrainer.com