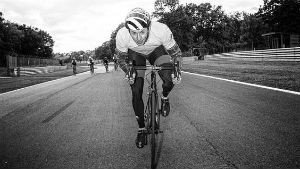 Revolve24 has been announced as a global series of 24-hour cycling relay races set at iconic motor circuits around the world. Officially launched at Brands Hatch – which will also play host to the first event on September 19-20 – by Revolve24 ambassador Jason Kenny, the series will then embark on a world tour throughout 2016 including famous motor racing circuits in the USA, France, Spain, Portugal and Canada.
Having set a casual lap time of 6:16:20 on the undulating, 2.433mile circuit, Kenny commented: 'I've always been a keen motorcycling enthusiast since a young age, so to combine this with cycling, Revolve24 is a dream event for me to be involved in. To see thousands of people here racing round the course on their bikes and enjoying a weekend of cycling entertainment is going to be great, and from taking on the course, the cycling side of things won't disappoint!'
Racing teams can be single sex or mixed – disabled or abled bodied and entrants can be soloists, duos or teams of four, six or eight. Aiming to be as inclusive as possible British Cycling has agreed that race licences are not required to compete. Non-riding 'Team Captains' and team supporters are also welcome to enter and attend to provide strategy, support and encouragement.
For more information and to sign up to Revolve24 see revolve24.com