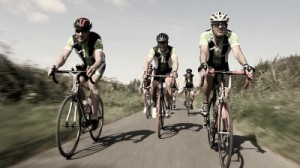 Registration has opened for The NSPCC Tour of England, a series of multi-stage tours that offer the ultimate pro-rider experience to amateur cyclists, with timed hill climbs, closed race circuit sections and unprecedented support Ė from team cars, to motorbike outriders, domestiques, mechanics and soigneurs.
The format of the NSPCC Tour of England rides is completely new to the UK, offering a tough two-stage tour for each event in the series, punctuated with circuit racing. Both routes take riders on a stunning journey, over iconic climbs and through Tour de France and Olympic road race territory. Riders on the two-day events can also attend a spectacular Yellow Jersey Dinner with presentations and special guest speakers. With seeded groups based on training times, thereís a place for everyone, from those wanting to race, to those seeing the challenge as completing the event, to those wanting to work as a team or use the event to raise money for the NSPCC.
The first in the 2014 series is the NSPCC Tour of the South East on June 7-8. Highlights of this route include a timed climb over the infamous Box Hill, featured during the Olympic Road Race and racing around Dunsfold Park circuit; a circuit frequented by Top Gearís The Stig.
The NSPCC Tour of Yorkshire is on July 19-20 and highlights include sections of the Tour De France 2014 route, the Yorkshire Wolds and North Yorkshire Moors, as well as timed climbs of Boltby Bank and Hanging Grimston. Both events consist of 180 miles over two stages with a total climb of 10,000ft. The Tour of England series is organised for the NSPCC by leading cycling events and media company Ride2Raise, and is supported by British Cycling.
Riders who commit to raising £500 for the NSPCC will pay a registration fee of just £49. Alternatively, riders can register without a minimum sponsorship commitment for £169. Tickets for the Yellow Jersey Dinner are included in the fundraising option, and £50 for everyone else.
For more information or to register for the NSPCC Tour of England see tourofengland.co.uk, and follow on Twitter @TourofEngland†