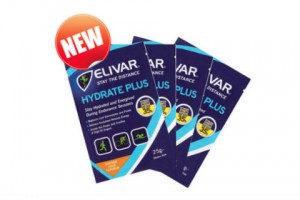 When Elivar launched it offered a complete three-part system for pre-, during and post-run energy with its Prepare, Endure and Recover products all aimed at athletes over 35. Now that system becomes four-part with the introduction of Elivar Hydrate Plus.
The 25g sachets mix with 400ml of water to make an electrolyte drink with combined energy delivery of 97kcal per serving. The powder mixes quickly and the resulting drink doesn't clump or clog sports bottles but is somewhat gritty in texture and tended to settle if left too long in the bottle. The flavour is nominally orange but really a bit generic 'fruit', not unpleasant, and no better, no worse than most electrolyte drinks and with no bitter aftertaste.
The electrolyte delivery is predominantly sodium and potassium (Sodium Chloride, Monopotassium Phosphate), no magnesium, and the energy is delivered via the somewhat unusual isomaltulose, a natural constituent of honey and sugar cane, that is intended for sustained energy release.
Whilst the original Elivar range found its niche by catering for the over-35s with additional fortifications, the Elivar Hydrate Plus, despite the branding, really offers nothing specific for the age group and is suitable for anyone looking to combine their electrolyte replacement with a dash of energy.
So, certainly not as ground-breaking in concept as the original Elivar Prepare, Endure and Recover products, but a solid enough addition to the hydration market.
Elivar Hydrate Plus retails at £12.99 for a box of 12 sachets. Further details and online purchase at elivar.com
Read the Cyclo review of the original Elivar products here.