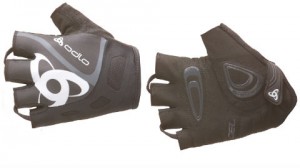 Odlo was founded more than 70 years ago by the simply brilliantly monikered Odd Roar Lofterød. Reputedly his motto was 'always make sure you're one step ahead', and, with the company still turning out commendably high spec apparel, it remains easy to fit the pronouncement with the product. Such is the case with the Odlo Endurance Short Gloves…
Attention to detail is something of a hallmark to Odlo – the towelling rub patch is larger than on many gloves, always useful for dabbing sweat and snot (who said cycling was sophisticated?), the Velcro closure tabs are rubberised for easy grip and duel loops on two of the fingers make for quick and easy fitting or removal. The gel pads are perfectly positioned too – one at the base of the fingers to moderate road vibration through the handlebars and reduce the likelihood of stress injuries and one over the lower pad of the thumb that helps protect the radial nerve and improve grip.
Although constructed from 100% manmade fabrics (50% polyurethane, 31% polyamide, 13% polyester and 6% elastane for stretch) the palms have a more luxurious suede/leather feel; however these do cause something of a sweat buildup in the tradeoff between padding thickness and wicking properties. This is alleviated, to an extent, by triple mesh panels on the back of the glove, which are bonded rather than stitched to further add to the comfort level.
Available all the way from XS to XXL sizes, finding the right fit should be easy enough and despite a few loose threads around the fingers, which caused us some initial concern (but amounted to nothing), there remains a great deal to recommend about the Odlo Endurance Gloves.
RRP is £35, with further details on the Odlo Endurance Short Gloves and other products see odlo.com