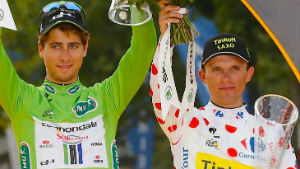 Tinkoff-Saxo have now officially announced that Peter Sagan will join the team in 2015. The Slovak star and Tinkoff-Saxo have signed a 3-year contract with the shared ambition of further strengthening the team and taking the career of the three-time green jersey winner to an even higher level.
Team Manager Bjarne Riis comments: 'We are happy and proud to present and welcome Peter Sagan on the team in 2015 on a long-term 3-year contract. Peter is without doubt one of the biggest talents in cycling and one of the biggest names already. He has a winning mentality, he's visible and active in the finales and he, without doubt, has the ability to bring home victories. It will be exciting to work with Peter also for me personally. He has a huge talent and he's already very strong but I believe he has even more potential than what we've seen so far… Next year, we'll have a very strong team to support him and to aim for big wins throughout the season'
As a combined sprinter, puncheur and classics specialist Sagan has, despite his young age, emerged victorious in an array of different races including three points classifications in a row at Tour de France, seven GrandTour stages and several one-day races.
More on Tinkoff-Saxo at tinkoffsaxo.com and on Sagan at petersagan.com