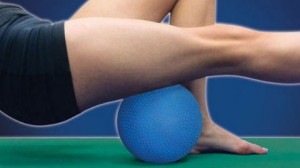 Hours in the saddle can certainly punish the body and when it comes post-event recovery most of us can't rely on (or afford) pro sports massages on a regular basis. When the option for some light self-massage arises the roam roller – the very definition of the pain/pleasure principle – seems to be the general weapon of choice; now though The Orb from Pro-Tec Athletics, whilst not a straight alternative, brings some added benefits of its own…
The 5inch ball, made of high-density EVA foam can be used in a variety of ways – all of which fundamentally involve using the body's weight to roll and massage – to release tension in the muscles. Whilst a roller allows only single-direction relief, The Orb gives a multidirectional-workout, which feels rather more targeted and, because of the reduced surface area, deeper too.
Arguably there are disadvantages over a roller – hence we think of it as an addition not a replacement – in that more of a balancing act is involved particularly, we found, when working on the quads or tackling The Orb side-on for an ITB workout. But The Orb does come into its own in dealing with calves, glutes and hamstrings where the added intensity feels particularly well judged and using it between the shoulder blades (against a wall) was a sublime relief.
Okay, so arguably you could achieve much of this with a tennis ball at a fraction of The Orb's £18 asking price but the size, weight and non-slip dimpled texture do all feel perfectly balanced. It's also far more portable than most foam rollers (although Pro-Tec do produce a nifty 4inch x 12inch travel roller too) so tucking The Orb in the kit bag for some immediate post-sportive relief is an option we would heartily recommend.
Take a look at our review of the Pro-Tec Y Roller here and of The Stick here