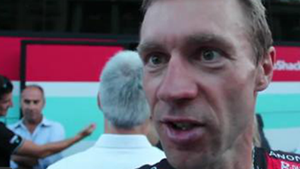 Despite rumored offers from the likes of Team Sky and Saxo Bank, one of the most popular riders in the pro peloton, Jens Voigt, has announced that he is to stay put for one final (!?) season at RadioShack – or more correctly the reformed, rebranded Trek. The 41-year-old – the oldest rider still competing professionally – had initially indicated that 2013 would be his swansong year, but has now reached an agreement with Trek to ride for them through the 2014 season, much to the delight of fans who continue to enjoy the sheer style of one of the most interesting and flamboyant cyclists of the modern age.
'I'm glad Trek and I got to an agreement for 2014,' commented Voigt, 'It's been three crazy years for me on Trek, with a lot of highlights, and I'm happy that we can go on for another year… Looking at the young kids: I see the future. They are ready to spread their wings. But maybe I can close one more gap for them, or teach them something from my years of experience. I feel I still have some gas left in the tank, so I can't wait for what's coming!'
Commenting on the highly anticipated agreement Trek Vice-President Joe Vadeboncoeur said,  'There has seldom been a foot soldier like Jens Voigt; he is the ultimate hardman. He attacks, he works like a dog, he crashes – and he gets up and does it all again the next day… Trek is honored to have Jens finish his career here.'
It is still undecided as to which races Jens Voigt will compete in next year and Trek is still in the process of building its 2014 team roster, but further announcements are expected soon.