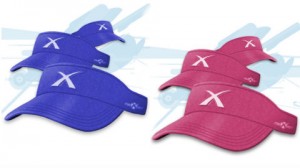 The difference between a fun ride and an utterly miserable one can all be down to temperature – of course performance can also drop off as the heat increases, so finding a good way to regulate things is an important consideration when taking to the saddle. Offering an innovative solution with a range of products that actively lowers your skin's temperature RealXGear promises big things, but does it all stack up?
There are three basic components to the RealXGear range – two sizes of towel, a baseball-style cap and a neck collar – each employing the same tech to cool things down, namely chemical beads (totally safe, naturally, but also environmentally friendly) that react to water to reduce the material's temperature. To set things in motion the material needs to be dunked or soaked in water – not necessarily even cold water – wrung out and put on.
Of the three the collar (which is 'coming soon' to the brand's website) proved far and away the most useful for the bike. Measuring approximately 84 by 13cm and with a slit in one end so the other can be tucked through and secured, the collar packs small enough to carry in a jersey pocket, ready for use when needed via a good soaking from your water bottle. The temperature drop is almost immediate – up to 20 degrees cooler can be achieved under optimum conditions – and we found it stayed cold long after a four-hour Sunday ride. Naturally there are elements that will have a bearing on exactly how long the tech will reduce temperature for – external ambient temperature, direct and strong sunshine, wind (a big factor on the bike) – but manufacturers claim anything up to eight hours and we've little reason to doubt them.
Post-ride both the towel and cap have their place for cooling things off and both worked equally as well as the collar. However the collar also has a practical application for use as part of the RICE (Rest, Ice, Compression and Elevation) regime in case of minor injury – there is enough strength and equal stretch in the fabric to easily wrap aching muscles and the temperature drop is just about enough to be affective, short term, for recuperation.
In all honesty Cyclo had thought that RealXGear would be a gimmick with limited real-world use, but we're more than happy to stand corrected – the range, particularly the collar, brings real benefit to the bike and it's simply one of those products that has to be tried to be believed.
The RealXGear towel is available in small or large and a choice of blue or pink (£11.95 and £13.95 dependent on size), the caps are available in a range of colours for £14.95 and the RealXGear collar retails at £11.95. For further information and online purchase at realxgear.co.uk