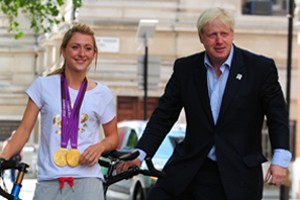 Never shy of rubbing shoulders with success Boris Johnson roped in double gold medal winner Laura Trott to announce plans for London to host a two-day world class festival of cycling next year. The weekend festival will be known as RideLondon and will feature a series of events for amateur, club and world elite cyclists.
RideLondon will take place over the weekend beginning 3 August 2013 and will be managed by the London & Surrey Cycling Partnership, a joint venture between the organisers of the London Marathon and The Tour of Britain. They hope that the festival will attract over 200,000 visitors from outside the capital, lead to a major boost in cycling numbers and generate tens of millions of pounds in economic benefit. We may have heard that one before.
RideLondon '…aims to be the largest charity fund-raising cycle ride in the world and organisers will be able to draw on the vast experience of the London Marathon team within the partnership. Since its foundation participants in the London Marathon have raised over half a billion pounds for good causes and in 2011 they raised a staggering £51.8 million.'
According to the Mayor of London, 'Our challenge is to ensure that 2012 is just the start….We also need to capitalise on the incredible achievements of Team GB's Olympic cyclists whose superhuman efforts will inspire thousands more Londoners to take to two wheels. I urge every Londoner and cycle fanatics from all over the country, if not the world, to mark the weekend of 3 August 2013 in their diaries for what I believe will become one of the world's number one cycling events.' An announcement about tackling the increase in cycling deaths in the capital would also have been welcome.
And a penultimate word from Trott – 'It's great to think (Olympic success) may have inspired people to get on their bikes and RideLondon is a great opportunity for the public to get out and join us on the roads.' To find out more head to www.RideLondon.co.uk
And a last word from our office wag – Boris [notorious philanderer] Johnson wants you to ride London?…..I thought he already had.