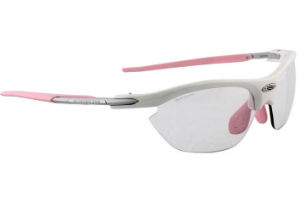 Rudy Project have been making the highest quality sunglasses for the best part of thirty years and the Rudy Project Rydon II remains one of Cyclo's firm favourites. These are everything we have come to expect from Rudy and pretty much everything we look for in cycling sunglasses. Attention to detail, classic yet somehow endlessly contemporary design, superb fit and feel and lenses that simply will not let you down.
Comfort – key, we think, to the success of any pair of sunglasses – can be broadly achieved in two areas. Firstly weight; the Rydon IIs utilise a combination of carbon, aluminum, magnesium, silicon and titanium (already sound cool, don't they?) that provides strength and flexibility whilst weighing in at just 25g. That featherweight touch comes close to feeling like there's nothing on your face/head at all.
Secondly in the comfort stakes comes arm and nose bridge fittings. Both of these on the Rydon IIs are rubberised to prevent slippage from sweat but flex and warp in a seemingly infinite number of ways for a fit that ends up feeling bespoke. If you can't get comfortable in these Cyclo suspects that sunglasses aren't for you, period…
Of course no amount of comfort counts if the lenses don't do their job, but here again Rudy (forgive the phrase) shine. The 'ImpactX lenses are made from a material apparently developed for the US military – incredibly lightweight, strong and shatterproof to the point where they are guaranteed unbreakable for life. Both polarised to prevent glare and photochromic to keep pace with changing light conditions, the lenses in the Rydon IIs deliver a crisp clean ride that doesn't distort even in the extreme of periphery vision. Additional, tinted, lenses can also be fitted and, assuming money is no object, prescription sets can also be ordered up.
The Rudy Project Rydon IIs not only look the part and come in a choice of colour-ways, but also deliver on every level. Sure, they're not cheap at close to £150 and leaving them at a feed station is likely to require professional psychiatric assistance, but if you care about looking after your eyes (and you should) and want to look the part on the bike (and why not?) then the Rydon IIs can't be recommended highly enough.
More details on Rudy at rudyprojectuk.com, the Rydon IIs are widely available online.