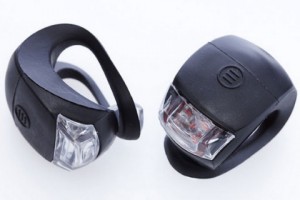 There's really nothing Cyclo likes more than simple efficiency and the Proviz Neutron Lights perform – quite literally – brilliantly. The Neutron is part of the Proviz own-brand range of bike lights and for those of you not in the know Proviz specialise in the retail of all things hi-viz from helmets to reflectives and cycling jackets.
Proviz Neutron Lights – one front, one back – are dinky water-resistant rubberised nodule-lights not unlike the Knog (Cyclo review here), which use a double LED to produce 36000MCD (millicandela) per light visible up to 650m. Of course that's the distance at which the light is visible not the distance at which it provides visibility, but it does produce a decent crisp white light to front with a decent spread – there are also a choice of three modes: rapid flash, slow flash and solid.
The Neutrons attach quickly to pretty much any part of the bike by wrapping the silicone loop around and slipping it over the plastic clip – it's a neat enough system although the plastic, the weakest point, is vulnerable in the case of a spill and is fairly unforgiving against the frame, so watch for scratches over time.
The Proviz Neutron Lights, whilst somehow not quite up to the sleek design aesthetics of the Knogs, are bright, light (just 22g each) and small enough to slip into a jersey pocket for those 'just in case' moments when the weather catches you out. At just £14.99 for the pair they are also cheaper than other similar manufacturers – compare the say the Lezyne Femto Drive LED Light Set at £21.99 or the Knog Frog Stobe Light pack at £19.99 (both available from Wiggle.co.uk)
Full details and online purchase of the Proviz Neutron Lights at provizsports.com Follow Proviz on facebook and Twitter.