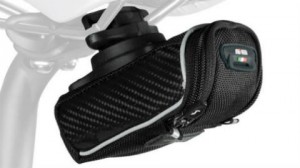 It's fair to say that Scicon know a thing or two about cycle bags and accessories. With thirty-plus years of design experience behind them the Phantom 230 Saddle Bag is the latest offering to impress Cyclo. In every way the epitome of a well-designed and constructed saddle bag it uses the unique 'roller 2.1' saddle fixing, making attaching and removal (or switching to the larger Compact 430 or Vortex 480 options) absolute simplicity.
The 2.1 fixing is effectively a two-part clamp – it attaches to any size seat rails without the need for tools and, once in place, allows attachment with a simple 'twist and click'. However, Cyclo found that it was important to tighten it almost beyond the point that felt component-safe to do so to stop the loaded bag from slipping along the length of the rail.
Despite being the smallest of the bags in the range the 0.23L capacity of the Phantom 230 Saddle Bag is more than enough for the essentials: a spare inner, keys, gels, even a phone and the fact that two tyre levels are integrated means that's one less thing to remember.
The Phantom 230 is uses a combination of DuPont's legendarily tough Cordula and carbon fibre, which makes it both light, at 123g, and incredibly durable. Whilst the ruggedness is to be admired, the relative inflexibility of the material does make stuffing that little extra inside problematic – perhaps this is an object lesson in not over-packing for the ride though… The bag closure is a simple zip for easy access, the rubberised zip tag is cold-finger-friendly, and the reflective detailing is an always-welcome addition.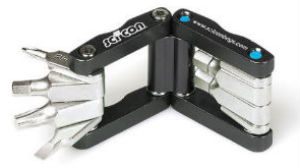 If you are also looking for tool options to stash inside the Phantom 230, then the Scicon Mini Tool is a good place to start; a folding combination that includes 2, 3, 4, 5 and 6mm allen heads, a Phillips and flat head screwdriver, and a T25 torx bit, it weighs in at a mere 60g and measures barely 3cm by 3cm. Of course the miniscule size doesn't allow for a huge amount of either grip or control, but as an emergency roadside option it ticks all of the right boxes.
The SciCon Phantom 230 Saddle Bag retails at around the £24 mark and the Scicon Micro Tool circa £23 – further details and online purchase at sciconbags.com