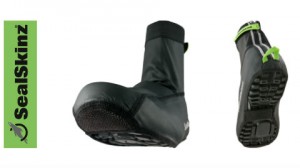 SealSkinz Lightweight Waterproof Overshoes seem like such an obvious idea. Since the 1980s, when the first SealSkinz waterproof sock was invented (in a flash of inspiration whilst watching a documentary about John Logie Baird, so legend has it), the company has been keeping bad weather away from the skin of outdoors type. Now the wait is almost over for cyclists with the SealSkinz Lightweight Waterproof Overshoes due for release in autumn 2013. Cyclo took an early first look in the hope they would live up to our expectations…
Designed predominantly for mountain bike and road/commuting (a specific race overshoe for cleated shoes is also out later this year – read our review here) the SealSkinz Lightweight Waterproof Overshoes offer an exceptional degree of weatherproofing, combined with breathability and comfort. As you would expect from SealSkinz this is a true quality product, absolutely fit for purpose and with the kind of attention to detail on which the brand thrives.
The outer membrane swept away water on our test rides, whilst the inner, flocked, lining did an excellent job of keeping feet warm. The design lines are clean, which, the makers quite rightly claim, reduces wind resistance and means that they get on with doing their job unobtrusively while you get on with the ride.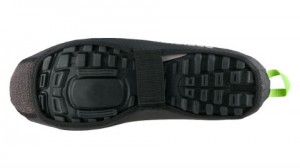 The fit is snug but not restrictive (available in sizes S, M, L and XL) with final adjustments made via a Velcro strap across the upper zip, which features a raised, rubberised, branding flash and an inner waterproof flap to ensure nothing creeps in through the fastenings.
The inch-wide underfoot Velcro strap did its job equally well and, whilst we had initial misgivings about its bulk, it remained perfectly in place without any discomfort. The neon-green pull-on loop is a nicety we admired, it meant that tugging the overshoe on (or indeed off) was achievable without getting hands unduly muddy/oily or risking stretching or misshaping, and for extra safety the zip edges are lined with reflective strips.
Having already put the SealSkinz Waterproof Overshoes for cleats through their paces, we had expected these lightweight, road versions to deliver – and so they did. Their tough construction – which includes a Kevlar toe piece for added durability – should see these through many seasons and the extra niceties make them worth every pound of their £35 RRP.
Once launched in August full details of the SealSkinz Lightweight Waterproof Overshoes will be at sealskinz.com. To read the Cyclo review of the SealSkinz Waterproof Overshoes (for cleats) click here, and for a review of their Thin Socklet click here