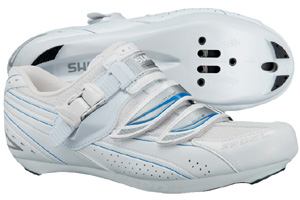 The Shimano WR41 Women's SPD SL Road Shoes are part of Shimano's road sport range that the makers (undeniably one of the longest established and most prolific) claim address the three most important properties: stability, rigidity and lack of weight. In testing Cyclo would also probably add, in order of importance, comfort and aesthetics. How do they measure up?
In terms of weight an EU 40 (that's a UK 5.5) come in at around 550g, a mid-range reckoning that feels light enough on the peddle with the general weight-saving coming from the fibreglass reinforced nylon outer sole (well cushioned from the foot's actual sole by an adequately padded insert) and a degree of meshing on the upper, which of course adds breathability to the ride. Rigidity and stability are also both well dealt with here, providing excellent power transfer and a true feeling of control. The 'micro-adjustable buckle' takes a go or two to get used to, but ultimately allows for a great deal of precision closure for a comfortable fit that feels snug but not restrictive. We didn't feel any hot-spots developing on long rides (or climbs) but as anatomical design varies far wider that shoe design these, like all cycle shoes, are best tested before committing whenever possible. Also worth noting that, although these softened with time, the inner, rear of the shoe is quite dramatically v-shaped and inflexible, which gave initial concern over ankle and Achilles comfort.
As these are designed as women's specific shoes they feature a lower and narrower heel section and a 'lower volume' front end– equally significant is the fact that the range runs all the way down to a UK size 2 (EU 36), so even the smallest of feet can benefit from the Shimano way of doing things. And aesthetics? Well, it's a cycling shoe – it looks just fine; stylish in its own way with a degree of reflective thrown in for good measure/safety…
Not the cheapest shoe on the market (RRP of £79.99, naturally excluding cleats), but Shimano are a broadly reliable brand and the WR41 looks like it should deliver plenty of miles for the money.