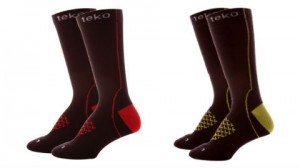 Teko Socks celebrate their tenth birthday this year and Cyclo thought it a fine idea to celebrate by putting their brand-new M3RINO Pro Ultralight MTB Socks to the test.
Anatomically designed for left/right foot the Pro Ultralight MTB socks are cut long for the demands of MTB and proved wonderfully comfortable on the ride and crucially don't bunch or sag thanks to a well-judged elasticated cuff that ensured they stayed put even after a soaking. They feature the 'New Wrap System' construction, which is designed to hold the sock onto the foot around the Achilles and over the instep, this both increases comfort (noticeably) and prevents the sock from slipping inside the MTB shoe to avoid chafing or the causing of blisters – again this was noticeable even when everything had enjoyed a good puddle soaking (just the time when the danger of blisters is highest.)
The Pro Ultralight MTB sock utilises high merino wool content (42% and Bluesign chlorine-free certified), which makes them soft and comfortable with the added advantages that merino brings: great temperature regulation, good wicking and breathability, plus natural anti-microbial properties that keeps away smells and should extend the product life too. The Lycra arch band supports the underfoot well and there's light cushioning through the heel and toe (the latter seamless to improve comfort) as well as in the shin to prevent discomfort from leg guards.
Also newly available is the Teko M3RINO Light MTB, with broadly similar features but with slightly increased underfoot padding – enough to take out the shock and vibration of the ride, but not too much as to pad out the shoe unnecessarily.
If you're looking for eco credentials (and if not, why not?) Teko offer these in spades. Their socks are created using renewable and sustainable materials and energy sources and even the packaging is printed on recycled paper and uses soy-based ink. It's all to be applauded especially when the socks themselves also deliver where it really counts most – comfort and fit.
The Teko M3RINO Pro Ultralight MTB socks are available in black/red at £14.95 and the M3RINO Light MTB in black/lime at £15.95 – there's a lifetime guarantee too. Further details and online purchase at tekosocks.co.uk