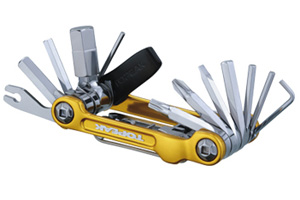 When is a mini-tool not a mini-tool? Probably, Cyclo would have thought, when it packs in quite as much functionality as the Topeak Mini 20 Pro Multi Tool (or has quite such an elongated name…) At 150g, 5.28oz in old money, there's certainly not much heft and at 7.6×4.2×1.8cm it's also we suited to sitting in a saddle pouch or similar, yet it offers up the breadth of use you might normally expect back in the garage.
So, a summary list of what's on board: spoke, torx and allen wrenches, tyre levers, flat and Phillips head screw driver, chain pin tool, chain hook, chain tool and a bottle opener with spoke holder. Certainly more fully featured than similarly priced (around the £27 mark) products and with a few other neat touches too including a little neoprene carry bag. Unlike other mini-tools Cyclo have road tested there was also no sign of that annoying 'floppy tool syndrome' that befalls so many other makes once things have been out of the box for more than a week – here the Topeak's various fold-outs remained reassuringly stiff. Also worthy of mention is the fact that the Mini 20 Pro 20 Function is a smoothly machined bit of kit that feels comfortable in the hand and avoids the usual brutalist butchness of many multi-tools where rugged industrial design may look macho, but actually just results in blisters.
Downsides? Well this is a mini-tool, so everything is rather on the mini side making repairs a fiddly business (particularly on a raid-soaked roadside) so probably not the tool of choice for post-ride garage shenanigans but as an on-the-bike emergency tool this is both comprehensive, practical and nicely engineered.
Available in Black, Gold and Silver.