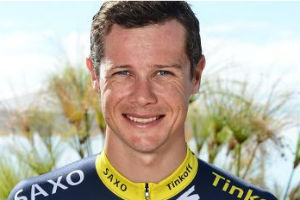 French-born Nicholas Roche has been a pro rider since late 2004 when he signed with Team Cofidis as one of their youngest squad members. A talented all-rounder, his many successes encompass the 2007 National Time Trial Champion title, the 2009 National Road Race Champion title and strong stage wins including Tour de l'Avenir, Tour de Limousin and the 2011 Tour of Beijing. The 2013 season sees him joining Danish squad Team Saxo-Tinkoff, supporting Alberto Contador and tackling his first race in the new team jersey at the five-day French stage race Tour Mediterraneen, which runs February 6 – 10. Ahead of the race and season in general, Cyclo thought we (and you) should get to know this rising star better…
On childhood sports
I was a hyperactive kid so the way to keep me quit was putting me in sports so from the age of four or five I was already running in a club. First it was cross-country and later I took on 800meters, which is a tough distance as it's a really long sprint. But I loved it. Turning 10 or 11, I picked up soccer because it was more sociable. All my friends were doing soccer so I tried one time and liked it right away.
Later, I took on cycling and rugby for a few years until we moved back to France where I tore my ligaments so I couldn't play soccer or rugby anymore. To keep me going I continued cycling until me knee felt better and thought I was going back to soccer or rugby but I was good at racing so I stayed in the saddle from the age of 15. Actually, I had a pretty hard program before I tore my ligament with rugby training on Tuesdays, Wednesdays, Thursdays and Fridays and cycling Wednesdays and rugby match Saturday and cycling race on Sundays. That was my childhood in sports.
On his proudest cycling result
Probably when I was 6th in the Vuelta in 2010. I was proud, but at the same time pissed at myself. I had a great opportunity, as I was fourth in the final week of the race. I put so much pressure on myself in the final time trial because I was aiming to get third. Having Fränk Scheck just in front of me I was hoping to pass him during the race but I ended up losing a lot of time on that stage. we were about seven riders within 1 minute and 30 seconds and dropping from hopefully third overall to seventh three days before the final stage was just so frustrating. It was a life time opportunity, I was in the best shape of my life but I ruined my big chance with stress so of course, I was mad at myself.
However, my win in Beijing in 2011 meant a lot to me as well. In the morning before the race I said to my teammates that I wanted to attack as there was only a few seconds from my 15th place to 8th. On the climb, I told them to ride full gas but I knew we weren't strong enough to make it to the top so I was hoping that another team would join us up there. Thankfully, Sky went to the front as well and put a huge pressure on the peloton and in the final I went alone. Tour of Beijing might not be as prestigious as the other World Tour races but I'm proud of the way I won.
On choosing Team Saxo-Tinkoff
It's something that I have had in the back of my head for years and actually since I started cycling where Fabian Cancellara and Stuart O'Grady were a huge inspiration and I've always hoped that sooner or later I would have the opportunity to come to the team. Now, I've matured and Bjarne has showed over the years that he's a great tactician and he has helped a lot of riders to move on and progress and they're just a great fit for me at this point of my career.
On 2013 ambitions
Hopefully, I can be a part of the Tour de France line-up and help Alberto making it to the top and I hope that I'll have a chance or two throughout the year to make it on my own. Usually at this time of the year, I'd panic if I didn't know my schedule but I have confidence in Bjarne and the sports directors and I'll let them surprise me. I'll be happy with whatever they come up with.
On rituals
I remember when I was playing soccer, I'd sit and watch videos of David Girona's best goals to inspire me how to shoot but I have no rituals like that anymore besides putting on my numbers in the evening before the race or in the bus on the morning rather than in my room. I also use music on the way to races to start thinking about the tactics and imagine my own scenarios.
On alternative employment
I was studying to go into hotel management because my dad had a hotel. So my plan was to study management and to go into hotel management and later on get a job in the hotel business. Actually, I dropped my education just before going to university as I wanted to become a professional rider so as an amateur rider I had a job at my dad's hotel and we made a deal that if I weren't a pro within two years I were to go back to studying. At the end of the first year, I turned professional.
On spare time
In the off-season, I like to just spend time at home, watching DVD's, checking my email and thinking about new projects. For the last two years I've been writing a book and this year I decided to organize a few events in Ireland as I have started up my own junior team. Sometimes I just sit down with a piece of paper and launch new ideas.
My typical day during the season is going training early at nine and I'll be back home at three at the latest, have my lunch, watching a DVD to guarantee myself two hours rest, then I'll go a walk, get a cup of coffee, read the paper and get home to dinner at eight. The day goes by fast. As my knee will be sore from most other activities, I like to go trekking on my own in the off-season. I'll get my backpack and just walk for up to five hours in the mountains of Italy and Switzerland. The more snow and the harder it gets, the more I enjoy it.
©Team Saxo-Tinkoff. With thanks to Team Saxo-Tinkoff and Nicholas Roche. More on the team at teamsaxobanktinkoffbank.com and on Nicholas at nicolasroche.co.uk