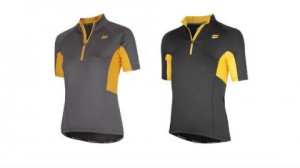 It's no surprise to hear that Cyclo gets to look at a huge amount of apparel, but when we take delivery of anything from Tribesports we always know we're in for a treat, because Tribesports is a company that likes to do things just that little bit differently.
Now in full production and shipping to over 180 countries, Tribesports was kick-started by, well, Kickstarter with 400% of the original funding goal bringing in almost £120,000 for the fledgling design company. And from the start the company has used 'community-power' for far more than mere fund raising, empowering their 'tribe' to encourage feedback that both influences product and helps cut costs that can be passed back in savings to their customers.
All of this would count for little if their apparel wasn't up to scratch, but it certainly is and the Tribesports Performance Cycling Jersey – available in both men's and women's– is an excellent case in point. It balances aesthetics and performance exceptionally well with a longer cut to the back, secured by a rear hem silicon grip strip to stop it riding up, and zoned ventilation under-arm to the sides for good temperature control.
Attention to detail comes in the form of a 'zip locker' at the upper end of the generous 22cm front zip so there's no neck-snagging (technical term?) or discomfort, and also from the excellent flatlock seams. There's reflective detailing too and two lumbar pockets for gels, bars and other necessities, plus an additional, zipped pocket for keys and essentials.
Comfort is really noticeable with the Tribesports Jersey; the 12% Spandex, 88% Polyester fabric mix moves well on the bike, wicks and breathes admirably and also features an antibacterial treatment to help minimise 'bike stink' (another technical term?) and prolong the apparel shelf life. In all, it hasn't taken long for this to become one of Cyclo's favourite cycling jerseys.
The Tribesports Performance Cycling Jersey is available for men in black/yellow in sizes S-XXL and women charcoal/yellow in sizes XS-XL, both at £48.00. Full details and online purchase at Tribesports.com