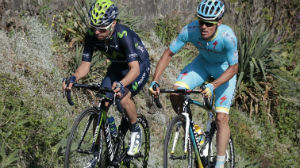 Astana have been cleared to race by the UCI despite president Brian Cookson requesting a withdrawal of the team's WorldTour licence – the independent UCI Licence Commission has decided to allow them to continue racing.
Astana was granted a provisional WordTour licence in December and subjected to an independent audit. The Commission is now said to be satisfied that a 'reorganisation of all the support personnel of its riders in order to strengthen its fight against doping" meets it's requirements. The Kazah team will keep its existing registration as long as it complies with "special measures.'
However, the results of the audit, carried out by the Sport Sciences Institute of the University of Lausanne (ISSUL), raised some red flags, including a continued relationship with banned trainer Michele Ferrari.
Cookson's original position that 'Teams have to take their responsibilities very, very seriously in terms of how they monitor riders, how they support riders and coach riders' included a nod to the Ferrari rumours reported by Gazzetta dello Sport, 'Others who are allegedly floating around on the sidelines, the people who have been banned, there are rumours that they are still acting as intermediaries, it is a warning to them as well.'
The trigger for the original enquiry was a pair of WorldTour team riders testing positive for EPO and several doping cases in its Continental affiliate. Both events raised concerns about the team's overall structure and ethics.
Cookson said, in conclusion, that the situation was 'very frustrating, but we had to work with legal tools and I had to accept that.' The announcement finally clears the way for Vincenzo Nibali to defend his 2014 Tour de France title without fear of exclusion.