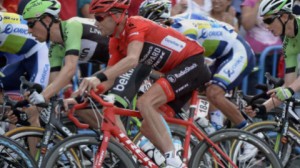 Chris Horner, who became the oldest Grand Tour race winner on Sunday with victory at the Vuelta a Espana has become embroiled in a row with anti-doping testers after apparently switching hotels to stay with his wife and missing a routine test.
In a strongly worded statement to the press Horner's Team, RadioShack Leopard Trek, asked that: 'the media to report correctly on this matter and will seek compensation for this matter with the responsible anti-doping agencies…' RadioShack went as far as releasing an email from Horner to the officials, which, they say, substantiates his claims that he updated everyone on his whereabouts.
In their statement RadioShack said: 'Chris Horner updated his whereabouts with USADA before the start of the final stage, giving the agency the name of his hotel for the night, phone number and room number for his one hour window between 6 and 7 AM. This is all according to the rules and Chris Horner received a confirmation email… The anti-doping inspectors from the Spanish Anti-doping Agency that were asked to do the test by the United States Anti-Doping Agency (USADA) showed up at the wrong hotel in Madrid, where the team was staying but Horner was obviously not to be found.'
They concluded their missive: 'The team believes the communication between the Spanish Anti-doping Agency and the media is a violation of the privacy of Chris Horner, especially since it comes down to a clear mistake by the tester.'
Neither Horner nor the USADA (or their Spanish counterparts) have, so far, added any further comment or response.