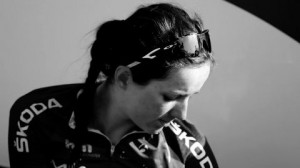 To call Elinor Barker an up and coming star would be to downplay her already impressive cycling CV. The 20-year old Welsh cyclist took silver in the junior women's time-trial at the 2011 UCI Road World Championships, going on to take gold the following year in the same event making her a world champion.
In her debut elite UCI Track Cycling World Championships in Minsk in 2013, she again won gold alongside Dani King and Laura Trott and in the same year at the UEC European Track Championships bagged another gold in team pursuit (with Laura Trott, Dani King and Katie Archibald) setting a new world record into the bargain.
She has gone on to break that record twice more, become world champion again in the team pursuit (2014 UCI Track Cycling World Championships), and take further podiums at the Commonwealth Games, European Track Championships and UCI Track World Championships… Did we mention she's still only 20?
With a move for 2015 from Wiggle-Honda to Matrix Pro Cycling, Cyclo caught up with Elinor to talk about the new team and the year ahead…
Cyclo: A big move from Wiggle Honda – presumably never an easy decision but was there one deciding factor?
Elinor Barker: Not really, it was a combination of a lot of things but I really liked how professional and organised Matrix are.
Cyclo: Was the 'British' aspect of Matrix an appeal?
Elinor Barker: Definitely. I've always enjoyed racing for British Teams and I didn't want to change that in 2015.
Cyclo: One of the key Matrix principles is the 'Development of women's racing at all levels.' That has to be high on the agenda for you, yes?
Elinor Barker: Definitely! The work that has been done to develop women's racing over the last few years has been incredible- resulting in huge races such as the Friends Life Women's Tour and the Santos Tour Down Under that just weren't on the calendar before. I'm really happy to be a part of that by joining Matrix.
Cyclo: There seems to be more of a gender balance in TV coverage for track. Do you see a shift now towards more women's road coverage too?
Elinor Barker: Yes it's going that way. UK coverage is getting better every year and again the interest in the new, bigger races such as the Women's Tour has helped that massively.
Cyclo: How's the balance between road and track? The team aspects of track must feed into the dynamic of a road team (and vice versa)…
Elinor Barker: Yes I think so. On the track it's pretty rare that I'm training or racing as an individual and I think that's a pretty good aspect to bring to the road.
Cyclo: I'm sure there's an obvious answer (or two) here, but what was your highlight of 2014?
Elinor Barker: Track worlds in Columbia and Commonwealth games in Glasgow. It was a pretty good year!
Cyclo: And the big goals for 2015?
Elinor Barker: The Track World Championships in Paris and defend the Team Pursuit title and to ride the women's Tour and have a good, fun year on the road.
Cyclo: Rio must seem suddenly very close… your thoughts?
Elinor Barker: Scarily close! It's exciting though.
Cyclo: What's the training regime like and is there any such thing as 'down time' for you?
Elinor Barker: It's pretty tough but recovery is just as important- lots of feet up time after training.
Cyclo: How's your approach to nutrition? Do you allow yourself treats and indulgencies?
Elinor Barker: I think nutrition is really important and I eat right so that I can train and recover properly. But at the same time if I really want a treat I know I can burn it off in training!
Cyclo: The team has recently started working with USN – what products do you use and how are you finding it?
Elinor Barker: I really like the recovery shakes as they basically taste like milkshake, which is much easier to drink that most protein drinks.
Cyclo: What was your first bike? (Sorry we ask everyone this in the hope they say Raleigh Chopper – but you're far too young…)
Elinor Barker: I can't remember what bike it was but it was a little red one with flames on it that I called my rocket bike. It had been my older brother and sister's first bikes, and my uncle's first bike when he was a kid.
Cyclo: Finally, any key advice to those looking to make a career on two wheels?
Elinor Barker: Try out all the disciplines that you can – track, cyclo X, road etc. I never thought I would enjoy track before I tried it, never mind be a full time track rider as a career! It's important to find out what you enjoy and what you're good at, you might surprise yourself.
Follow Elinor on Twitter and find out more about Matrix Pro Cycling at matrixprocycling.cc
More on USN at uk.usn-sport.com