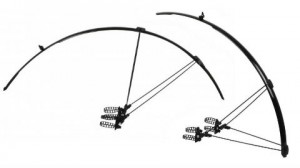 Zéfal Shield R30 Mudguards offer a low-profile solution for quick fitting when the season shifts and a dry ride is required. And by quick fitting we mean really quick – even initial setup was a sub-five-minute job of work that frankly we could have halved if we read the fitting instructions.
The Shield R30 uses loose rubber strap fittings with complete U-stays made from stainless steel, which make them exceptionally solid once fitted, and the variety of adaptors make these a flexible guard of choice. There are also two interchangeable spoilers for the rear of the guard allowing you to choose the amount of protection needed, with the longest one extending below the rear derailleur to provide up to 80% coverage; if you ride in a peloton you'll notice the difference here (as will your fellow cyclists, who will avoid a face-full…)
Adjusting the position over the wheel was slightly fiddlier than we would hope for, but once the job is done, it's done. The degree of stability was impressive; there's little more annoying than guards that flap, dangle, squeak and rattle but the Zéfal Shield R30 quietly and efficiently got on with the job for us.
At £29.99 the Zéfal Shield R30 sits midrange between the likes of the £18.99 SJS Roadguards and the sturdy and dependable Topeak D-Fender R1/R2 mudguards  (£39.99), they certainly out-perform the flimsier former and stack up very well against the latter.
For further details on the Zéfal Shield R30 – and to find a retailer – see zyro.co.uk